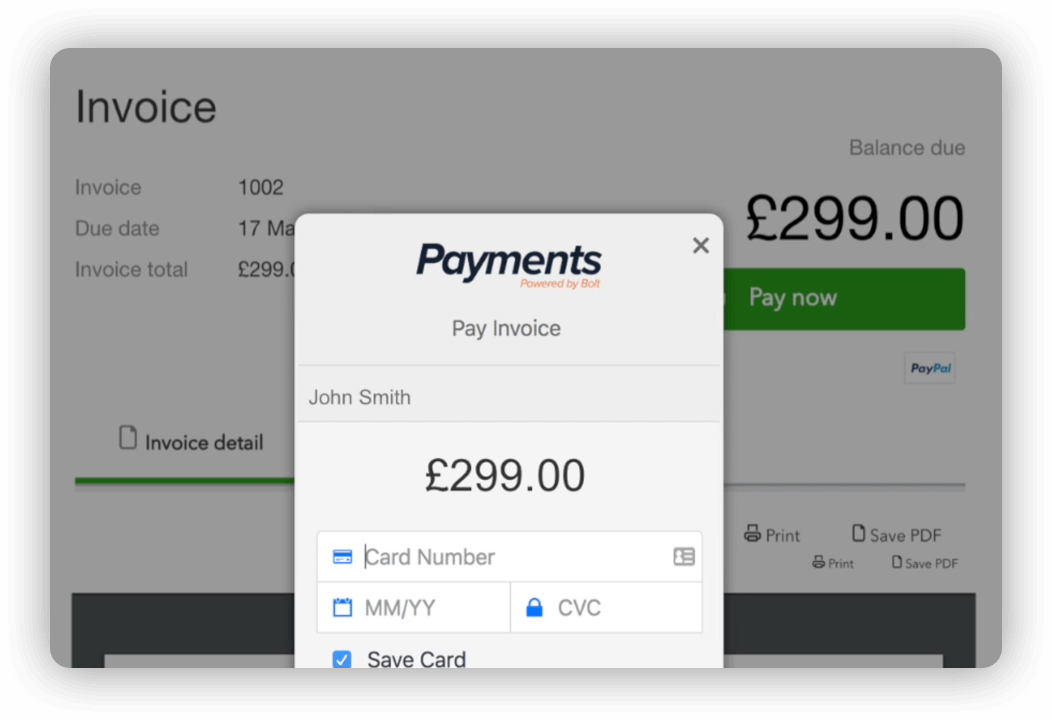 Accounting software serving over 4.5m customers.
Enabling payments has added capabilities that are winning and retaining customers for QuickBooks

The Challenge
Businesses want to improve their cash flow and create convenient methods of payment for their customers. They're using payment providers not only take the payment but so that their processing is centralised, which is convenient. Businesses don't want to deal with antiquated payment processes anymore. Accountants and businesses are struggling to find accounts receivable software that is compatible with their preferred payment providers and improve the health of their respective businesses.
It is proven that payments as a feature drives customer acquisition and retention of those customers over time for SaaS vendors.
The answer is to ensure that SaaS companies are working with the relevant payment providers, which in turn enables them to onboard more customers. For a SaaS vendor like QuickBooks integrating and maintaining payment integrations is a huge burden. The burden is increased when PCI compliance is included and the scope their systems are brought into the audit. Adding the features that their customers want is difficult, expensive and time-consuming.
In two years we've gone from zero to helping 9k+ QuickBooks businesses get their invoices paid online!
How Shuttle helped
In 2018 we built a payments app for QuickBooks to showcase that it was possible for invoices to get paid online with any of our connected payment providers.
In that year QuickBooks shortlisted us for their top 10 apps of 2018 in the infamous App Showdown competition. Sadly we didn't win, but one of the success criteria was about how applicable the app was to the QuickBooks user base. Obviously the majority of QuickBooks users send invoices and would want those paid online where possible.
To improve the accounts receivable process for the user our app records the payment against the invoice and changes the status of the invoice to 'PAID'. We also provide added features, for example, the user can receive an email notification on payment and set the invoice to part pay, which means the invoice can take instalments and on appear as paid once the full amount has been paid off.
QuickBooks users are utilizing more than six of our connected payment providers to get the invoices paid online.
Our dynamic payment form appears on the screen and displays the features that the QuickBooks user has configured. These could be payment methods like ACH, SEPA or PayPal. Or extra levels or fraud checks. Just like most other online payments the end customer can save their card details for faster processing next time.
The bulk of the PCI compliance is offloaded to us since we host the process, although it feels part of the experience since our payment form is used in an iframe over the software with the invoicer's logo for extra trust value.
"Works perfectly, thank you. It is just what I needed for one of my clients. It was easy to set up and connected Stripe to QBO Online with no problems at all. Thanks…"
Zebbies, 01/14/2020
The Result
In two years we've helped 9k+ QuickBooks businesses get their invoices paid online!
Intuit told us that, since 2018, we were QuickBook's fastest-growing new app and that the usage of our app drove customer retention for QuickBooks.
Due to the success of our app we have been invited into all of the QuickBooks success programs and help accountants drive value for their clients, namely teaching them how to improve their cashflow.
Intuit knows that adding functionality like payments is a competitive advantage over the competition and attracts savvy business owners.
We've seen invoices up to $250k paid online using credit cards!
Intuit asked us to support their London Hackathon in 2019 with our payments platform and API for software vendors. It would allow contestants to build on top of the QuickBooks API with the added feature of online payments from the leading payment providers around the globe via Shuttle. 17 out of 40 teams used our API to build everything from mobile apps for hair salons to ecommerce.
Since the success of our QuickBooks partnership, other apps in the ecosystem have turned to Shuttle for payments.
If you're a software vendor building accounts receivable functionality then making it convenient for businesses to get paid online is a must.